The Forté Series 2000 is an inline moisture and weight measurement system for textiles, pulp rolls, rubber, tobacco, and other products that are shipped in bale, carton, or pallet form.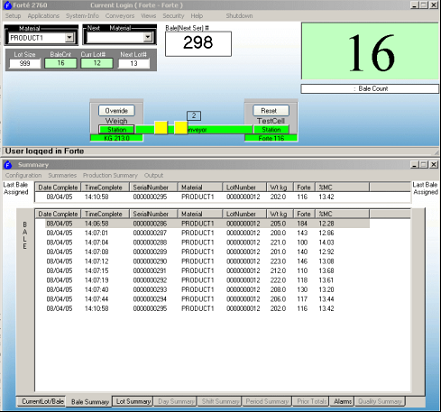 Main Application shows real time bale
placement, weight and % AD
Why Measure Moisture?
Accurate moisture determination has a direct effect not only on quality, but also on invoicing and bottom line profits.
Many textiles are sold on the basis of having a certain moisture content or moisture regain. Your customer will complain if the moisture content is too high because this means that he is paying for water instead of fibers. If the product is drier than it needs to be, then you are giving fiber away, and hence, losing profit. Knowing the accurate moisture content of your product allows you to bill for all the fiber that you ship and keeps your customer happy because they know that they will receive all the fiber to which they are entitled.
Why Use a Forté System?
Other moisture analyzing methods take hours to complete, destroy the sample, require highly trained personnel, are not as accurate, and/or cost a lot more than a Forté Moisture Measurement System.
Forté determines the average moisture content of your product in less than one second. But for bales of fiber, sometimes that's not enough. This is why we have developed our Wet Layer System to work in conjunction with our main Test Cell.
The most common moisture measurement method is Laboratory Oven Drying. If done correctly, this method is very accurate but it measures less than 0.001% of your production. How can a mill possibly invoice accurately when such a small amount of material is tested?

Laboratory Oven Drying is a multiple step, labor intensive process, so it allows for the possibility of human error. Since these tests often take hours to complete, they are useless for controlling energy consumption.

A Forté System is custom designed to measure the product that you manufacture. Every bale, roll, carton, or pallet is measured right on the production line, giving instantaneous results for production control and commercial invoicing.

For bales of fibers, average moisture content may be misleading. A wet layer, when averaged into overall moisture content, may be small enough to make the bale look as though the moisture content is within specification. However, if this bale is shipped to a customer, he would soon discover the wet layer because of the negative affect it would have on their production. For this reason, we developed our Wet Layer System.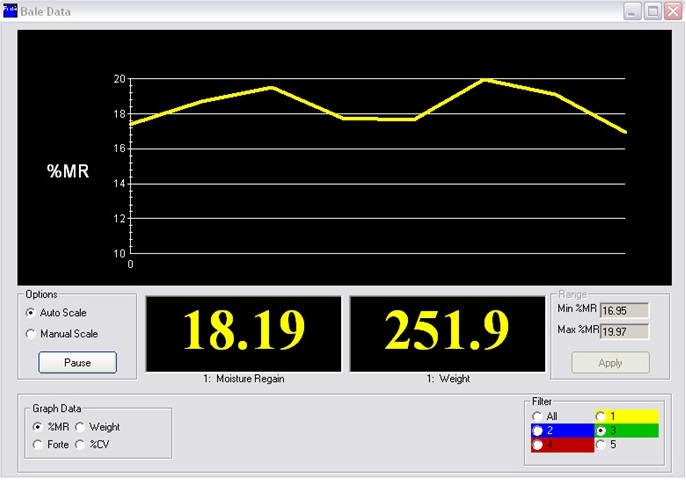 A line graph which portrays the %MR, Weight, %CV,
or Forte number for the last 40 bales.
(click image to enlarge)
How Does the Forté System Work?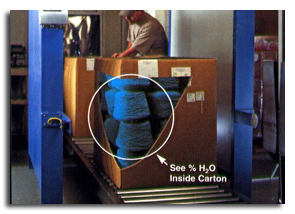 The secret of each Forté System is in its electrode sensor and signal generator. The Forté Test Cell electrode, which is mounted astride your existing conveyor, passes a harmless, low frequency electromagnetic field through the entire mass of your product – not just the surface.
Your product passes between two non-contacting electrodes or a single electrode can be placed over the conveyor depending on the positioning of your product. The Forté computer receives the electronic moisture reading and the digital weight input from your existing or Forté-supplied weight display. These numbers, together with the appropriate calibration constants for the product being measured, are used to calculate the % Moisture Content or Regain.

The Forté System is calibrated using laboratory oven tests. Our experienced engineers will assist with this at the time of installation. Once a careful calibration is completed, the Forté can operate effectively for many years.

The electronics in our Wet Layer Test Cell continuously scan each bale, taking hundreds of measurements, as the bale is passing through the test cell. These measurements are then converted into a user specified number of layers and are displayed on a graph. A quick visual scan shows you any wet or dry layers within the bale. Out of spec bales can then be removed before they are sent to a customer.
Forté Provides All of the Information You Need
The data that Forté collects is stored on the Forté computer and can be output to a mill-wide information system. The user interface is configurable as are the periodic reports which can be generated automatically.
Forté Systems provide information by package, lot, shift and/or day. User defined fields can be used to enter other Quality parameters which will become part of each package's record. A record of each measurement and its associated data is stored in the archives and can also be sent to the mill's network. Production data for the last 24 months can be viewed and/or printed from the Forté computer. The software application calculates and prints the total weight and average moisture, resulting in comprehensive management information.

In addition, the Forté software application can output data to your label printer, display easy to read graphs of % moisture content and weight, provide an output to remote displays and other peripherals, and send an output signal to an external alarm.
Forté Systems are Flexible and Affordable
Forté designs and installs complete systems for any type of mill configuration. We provide 100% sampling and the direct means to improve both yield and quality. A Forté System is the key to precise accounting for every bit of material that is produced in your mill. The typical Return on Investment is measured in months rather than years.
Advantages of the Forté Series 8000 Pulp Moisture/Weight Measurement System
Measure Moisture in Real Time, Not Hours Later
Improve Accuracy by 100% Sampling
Eliminate Sampling Error and Waste
Maximize Invoicing Weight without Risk of Customer Complaints
Optimize Drying Function - Save Energy
Reduce Testing and Production Labor
Improve Quality
Provides Accurate Production Records
Archive and Print Production Data Records